Outdoor Kitchens Billings, MT
Elevate your outdoor living area with a custom outdoor kitchen. Host neighbors, friends, and family like never before with beautiful & powerful outdoor kitchen.
Enjoy Your Outdoor Living Space Like Never Before
In Billings, Montana, homeowners look forward to spending their summers cooking on their gas grill and sitting around the fire pit with their family and friends.
There's just something about dining al fresco that makes your food taste better. But it can be a hassle to bring dishes and platters from your indoor kitchen to your outdoor patio dining space.
Make dining outside easier by installing a kitchen space in your outdoor living area. Upgrade your stainless steel grill to a built-in grilling station, complete with luxury countertops and ample cabinetry for storage.
R & T Services is your Billings outdoor living expert, and we can help make your outdoor living space more relaxing than ever with:
Pergola roofs: Enjoy your patio all year with a beautifully designed louvered system that compliments your home's architecture.
Custom outdoor grills: Host the best gathering ever with one of our custom patio grills.
Custom outdoor fire pits: Gather around a custom outdoor firepit as you enjoy a beautiful day with your friends and family.
Dream & Cook Outdoors
Turn your yard into an outdoor dining destination!
Bring Elements Of Your Indoor Kitchen To Your Outdoor Space
When you hear "cabinetry" and "countertops," you probably envision an indoor kitchen renovation.
But Billings homeowners can design an outdoor cooking space with all the design elements and conveniences of an indoor kitchen with exciting features, like outdoor pizza ovens and LED lights.
Outdoor kitchens are great for entertaining. With your guests enjoying your patio kitchen, your living and dining rooms will stay spotless. And you'll be able to do all the prep work, cooking, and serving without stepping away from the party.
Whether working with a large yard or small spaces, R & T Services can help you choose the suitable outdoor kitchen cabinets, countertops, and unique appliances to make your outdoor kitchen an oasis in your backyard.
Outdoor Kitchen Ideas For Your Outdoor Living Space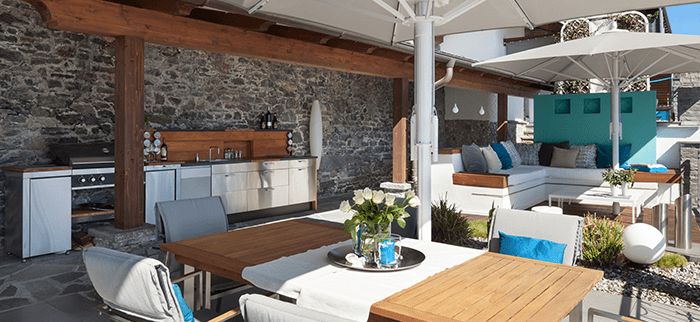 With so many design ideas for your new outdoor kitchen swirling around your mind, it can be challenging to get a clear picture of what would work best for your new outdoor cooking area.
The experts at R & T Services can help you build an outdoor kitchen that reflects your unique tastes and has everything you need for the ideal entertaining space.
Here are some ideas for some fun, luxurious features you can add to your outdoor kitchen that will have your guests begging for an invitation to your alfresco dining area.
A cooking area with a pizza oven, built-in grill, and grilling station: Whether you are looking to host a BBQ or just love throwing meat on the grill, a decked-out cooking area will make it easy for you to cook on your outdoor grill all year round. You can add a pizza oven and propane burners that will please any home chef looking to cook for a crowd.
An L-shaped outdoor kitchen island with a sink and faucet: You can never have too much counter space, even outside! Plus, a large outdoor kitchen island can double as extra seating.
An outdoor refrigerator: You can choose from a mini-fridge to a full-sized outdoor refrigerator. But either way, you won't have to worry about running in and out of your home to grab the necessary ingredients. Plus, a cold beverage is never far away!
Portable heaters: Billings, MT is known for its cold winters, which means most homeowners will have to stare longingly at their outdoor living area until the temperature rises. But with movable propane heaters, you can keep the party going and cook in your outdoor kitchen any month of the year.
Your luxury outdoor kitchen area doesn't have to be a dream. R & T Services can make it a reality.
Whether you opt for a modular outdoor kitchen or customize one that reflects your unique aesthetic, our outdoor kitchen experts can survey your yard and help you install the right outdoor dining space for your home.
The Perfect Kitchen
Your new dining room awaits! Great for family gatherings.
R & T Services Knows What Goes Into High-Quality Outdoor Kitchen Design
With over thirty years of experience serving the residents of Billings, Montana, R & T Services knows exactly how to elevate any space in your home.
Increase the functionality and value of your home with a custom built-in outdoor kitchen. You'll love how it brings the family together!
Contact us today to get the design process started, so you'll have a customized outdoor kitchen in time for your next big gathering.
Custom Outdoor Kitchen FAQs
What should I do to prepare my home for spring?
Prepare for spring
by cleaning your gutters, testing smoke alarms, and scheduling your annual HVAC inspection to ensure your AC unit is ready for the warmer weather.
Should I install a backyard fire pit?
Yes! A
backyard firepit
can act as a focal point in your backyard and offer a cozy place to spend time with loved ones during any season.
What kind of material should be used for an outdoor kitchen?
Outdoor kitchens can be made out of various materials, including stainless steel, stone, wood, concrete, and HDPE.
Ready To Upgrade Outdoor Living Space?
We can design, install, and maintain your outdoor kitchen. Ask us how!

"R & T beat every bid I got and filled out most of the paperwork for the credit from MDU. When I filed my taxes, they got me a itemize receipt, for the energy credit. Would highly recommend them!!"

"The R & T team made me confident that my A/C install project would be done on-time. The other estimators only noted problems; R & T Services enthusiastically solved problems."

"Tim O'Brien is highly knowledgeable in all aspects of heating and cooling. R & T Services showroom is amazing. If you need any services they will perform top notch, quality work."