Expert Fireplace Maintenance
You want your fireplace to work when you need it. Let us keep your fireplace going strong throughout the year. Protect your investment and home today!
Expert Fireplace Maintenance In Billings, MT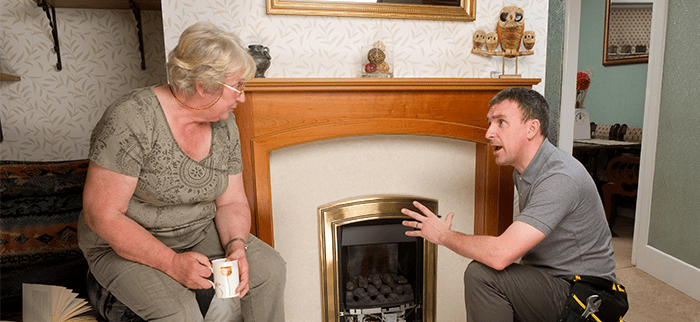 A fireplace is a staple in many Billings homes because they create a comforting ambiance that homeowners love.
You know that your wood fireplace or gas fireplace needs regular maintenance to ensure it's running properly and efficiently. So you faithfully clean the fireplace glass and regularly vacuum the ash from your wood-burning stove.
But there are other important annual maintenance tasks you need to do to ensure your fireplace won't require repairs halfway through the heating season. In addition to professional fireplace maintenance, we also offer:
Custom fireplace design: Our team will design a custom fireplace to fit your home's unique fit and feel.
Fireplace installation: Once designed, our team will take care of all the heavy lifting to install the new fireplace in your home.
Fireplace repair services: Our team is here to get your fireplace working again if it fails to start or runs cold.
R & T Services can help. We offer wood-burning and gas fireplace maintenance services to residents in Billings, MT, and the surrounding areas.
Protect Your Investment
Keep your fireplace going strong with annual maintenance & cleaning from our pros!
Why Is Annual Fireplace Maintenance Important?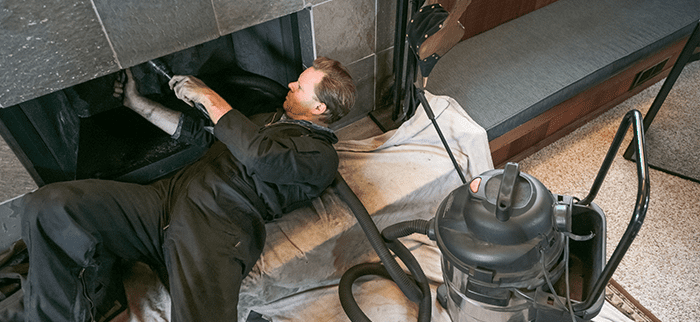 Billings, Montana, is known for its vibrant outdoor life and cold winters. Wood-burning and gas fireplaces are a great focal point for your living room, bedroom, or even outdoor living space.
They allow your family and friends to gather and build memories that last a lifetime.
So when the time comes to fire up your fireplace for the first time in the heating season, the last thing homeowners want is to find their fireplace won't turn on during one of the coldest days of the year.
Whether you have a gas fireplace insert, wood-burning stove, or other fireplaces, you must do routine maintenance to keep your unit running properly.
Here are some reasons why you should never skip annual fireplace maintenance.
It helps your fireplace run properly throughout the heating season.
It allows you to catch issues early and prevent costly repairs.
It cleans the build-up that accumulates on the glass, allowing for a clear view of the flames.
It prevents dangerous natural gas leaks due to faulty parts that could lead to carbon monoxide poisoning in your home.
It allows your fireplace to run as efficiently as possible, reducing your home energy bills.
It allows a professional to evaluate your unit.
It extends the life of your fireplace and
Skipping annual maintenance may seem like no big deal. But it's always better to be safe than sorry.
Trust the experts at R & T Services to inspect your fireplace and perform routine maintenance to keep your unit in top shape.
If the technician finds any issues, they can even perform fireplace repair to prevent more significant problems that may lead to even more costly repairs or the need for a new fireplace installation.
Let's take a look at what you can expect when you schedule a routine fireplace maintenance call with our team of fireplace experts.
Affordable Maintenance
Protect your family from the cold with our expert fireplace maintenance services.
What To Expect From Your Fireplace's Annual Service Call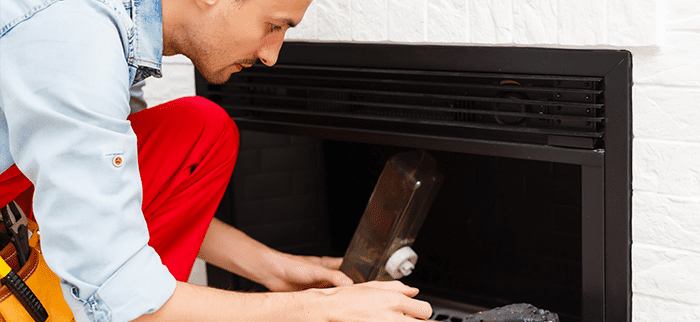 Homeowners like you know how important it is to perform routine maintenance. Not only does this keep your home in order, but it shows that you take pride in your property.
But many homeowners struggle to fit fireplace maintenance into their busy schedules between work, family obligations, and other requirements.
Fortunately, the experts at R & T Services have your back. When you call us to schedule an annual fireplace maintenance call with one of our expert technicians.
Arrive On Time: Our fireplace expert will arrive at your property on the designated day, ready to work.
Exterior Inspection: The technician will start the service call by inspecting the exterior of your unit. They will do a visual inspection to ensure all the exterior parts are in place and sealed properly.
Glass Inspection: Next, the fireplace tech will inspect and clean the glass, looking for cracks or chips that could compromise your unit. Since the glass on your fireplace acts as a barrier to the flames, it must be in good condition. They will open the glass doors to check the hinges and gasket. The technician will remove any creosote buildup or soot as well.
Gas Log & Gas Line Inspection: Gas fireplace maintenance includes a routine check of your firebox. This consists of assessing the log sets, gas lines, and thermocouple/thermopile to ensure there are no dangerous gas leaks. The technician will also check the pilot light to ensure it's burning correctly.
Vacuum The Unit: No annual maintenance call is complete without a good cleaning. Your fireplace tech will vacuum debris from your unit, like cobwebs, dusk, and soot.
Chimney/Vent Inspection: Finally, if your unit has a chimney or exterior vent, the technician will inspect the chimney or pipe to ensure there are no blockages or animal nests near the flue that could be hazardous to your home. They may recommend a chimney sweep or cleaning to ensure the carbon monoxide and smoke are correctly vented.
With one appointment, R & T Services will check all these items off your home maintenance list, allowing you more time to do what matters.
Call R & T Services For Wood-Burning And Gas Fireplace Service
Your fireplace is the heart of your home. Billings homeowners depend on their fireplaces to create a cozy environment and help keep their homes toasty during the cold winter months.
So don't get caught in the cold by foregoing annual fireplace maintenance. R&T Services knows what it takes to keep your wood-burning or gas fireplace running without a hitch.
With over thirty years of experience in the Billings service area, our highly trained technicians value professionalism. Along with annual fireplace maintenance services, we also can help you with your HVAC and furnace needs. Contact us today for more information on how you can set up the right fireplace maintenance schedule for your Billings, MT home.
Billings Fireplace Maintenance FAQs
How often should I clean my gas fireplace?
What are the most critical tests in gas fireplace maintenance?
The most critical tests include gas line checks, gas log checks, and the safety control operation sequence.
How often do I need fireplace maintenance?
Have Questions Your Fireplace?
Our team is here to keep your fireplace running great throughout the year.

"R & T beat every bid I got and filled out most of the paperwork for the credit from MDU. When I filed my taxes, they got me a itemize receipt, for the energy credit. Would highly recommend them!!"

"The R & T team made me confident that my A/C install project would be done on-time. The other estimators only noted problems; R & T Services enthusiastically solved problems."

"Tim O'Brien is highly knowledgeable in all aspects of heating and cooling. R & T Services showroom is amazing. If you need any services they will perform top notch, quality work."