Custom Fireplace Design
Build a fireplace uniquely for your home. Our team of fireplace experts can help you in every step of the design process to ensure you get the perfect fireplace!
Make Your Own Custom Fireplace Design A Reality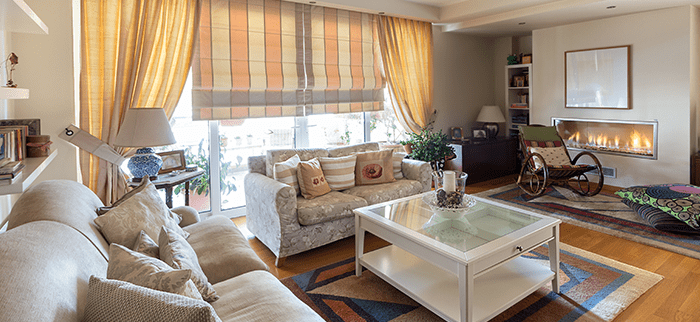 Whether you just purchased a new home, want to update your existing space, or are planning on building a custom home in the future, you want the best features and amenities for your home, like a Billings fireplace.
They elevate your property value and allow you to create a living space that reflects your ideals and unique style.
Fireplaces instantly add class, elegance, and warmth to any room in your home. They offer a focal point for your living space, act as additional heaters on the coldest nights, and inspire your loved ones to make memories that last a lifetime.
With the help of our fireplace experts, we can help you put your stamp on your home than to design and build a customized fireplace with expert services like:
R & T Services knows precisely what it takes to have your guests oohing and ahhing over your newest addition. With over 30 years of experience, our fireplace experts can help make your dream a reality.
Add Elegance & Warmth
Experience the comfort, quality, and craftsmanship of a Billings fireplace today!
Custom Indoor Fireplace Design Ideas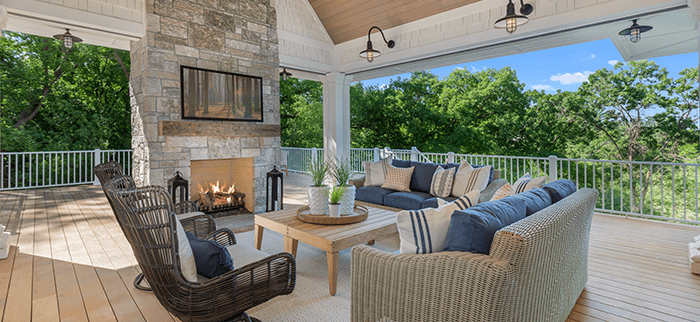 Before you plan on the visual elements of your fireplace, such as stone type, metal finish, or gas log sets, you should know which kind of custom indoor fireplace will fit your needs.
Here are some ideas to get you started on planning your customized fireplace.
Wood-Burning Fireplace Style Options
If you're in the market for a custom wood-burning fireplace, there's a good chance that you value tradition mixed with modern convenience. That's because there's nothing like a good wood fire on a chilly winter day.
Between the smell of fresh-cut wood and the sounds of a crackling fire, there are limitless stone and tile options when designing your wood-burning fireplace.
As you design your custom fireplace, you can choose from a front-facing design, which allows a full view of your fire from one side, or even a see-through model that allows you to see the flames from two different rooms.
Remember to consider the placement of your wood-burning fireplace. It should be close to your wood source, preventing you and your loved ones from carting heavy loads of firewood across your home.
Gas Fireplace Style Options
Because gas fireplaces burn cleaner than their wood-burning counterparts, homeowners can actually get extremely creative when designing custom fireplaces.
Choose from beautiful fire glass or traditional gas log sets to create a fire that will reflect your unique aesthetic. We can help you design a modern-style fireplace or a more traditional fireplace surround to elevate your living space with warmth, comfort, and beauty.
Put on your interior designer hat and choose from a variety of custom gas fireplace models that will have your guests in awe of your unique style:
Four-Sided: Add luxury to your living space with a four-sided glass fireplace. This model allows you a perfect view of the flames from any angle in your home.
Round: A round gas fireplace adds visual interest and style to any room in your home. The standalone design allows you a 360-degree fire of your fire, which makes any corner of your room warm and cozy.
Panoramic: Make a statement with a long, panoramic gas fireplace. Install it against a statement wall for maximum impact.
Indoor/Outdoor: These fireplaces are visible from both inside your home and your outdoor living space. This means you can take your gathering from inside to outside without losing the warm ambiance of your fire.
Peninsula: A peninsula fireplace attaches to one wall of your home with three sides standing out in your living space. You can see the flames from multiple sides and can use this to divide a large room while giving both sides the same glow.
It's important to remember that a custom fireplace design should blend with your existing home. Choose colors, shapes, and styles that fit the overall aesthetic you are trying to achieve with your home decor.
#1 Billings Fireplaces
Build a fireplace that's as unique as you are.
Custom Fireplace Designs For Outdoor & Indoor Fireplaces
Billings homeowners take pride in elevating their living spaces. And they know a fireplace is about more than functionality: it's another opportunity to express yourself and make a statement.
R & T Services has served Billings, Montana, and the surrounding areas for over thirty years. Our experts can help you choose the right fireplace for your home and give you the tools to customize the perfect fireplace mantel.
From start to finish, we can help you conceptualize, design, and install the right fireplace for your unique style. We even include fireplace accessories like a unique firescreen and high-quality tools.
Contact us today to let your creativity fly and design a custom fireplace that will have all your friends in Billings asking where you got your fantastic fireplace.
Billings Fireplace Design FAQs
What are fireplace inserts?
Fireplace inserts
fit into your existing fireplace to make it more energy efficient and increase functionality.
How often do I need to clean the glass on my gas fireplace?
How much does a custom fireplace cost?
Expect to spend anywhere from $2,300 – $20,000 on a custom-built fireplace, depending on the type of fireplace, finishes, and installation costs.
Have Questions About A Fireplace?
Our team is here to help you design the perfect indoor or outdoor fireplace today!

"R & T beat every bid I got and filled out most of the paperwork for the credit from MDU. When I filed my taxes, they got me a itemize receipt, for the energy credit. Would highly recommend them!!"

"The R & T team made me confident that my A/C install project would be done on-time. The other estimators only noted problems; R & T Services enthusiastically solved problems."

"Tim O'Brien is highly knowledgeable in all aspects of heating and cooling. R & T Services showroom is amazing. If you need any services they will perform top notch, quality work."