Outdoor Grill Stations
Dreaming of an outdoor cooking oasis? We make Billings homeowner outdoor cooking station dreams a reality with our trusted custom-built grills!
Make A Statement With A Custom Backyard Grill
Billings homeowners know that Spring and Summer are the perfect time to host gatherings with family and friends. You could go with a regular grill for your next cookout, but you know there would be something missing.
You work hard, and you deserve to have a custom barbecue grill that makes a statement!
A custom outdoor grilling station can be the perfect addition to the outdoor kitchen that you have been dreaming of, and the custom BBQ grill experts at R & T Services know how to bring your backyard to life with benefits like:
Host amazing tailgating parties with your friends around a custom barbeque for the big game.
Customize your barbecue grill with a host of attachments like a barbecue pit and a custom BBQ smoker.
Use a stainless steel grill for cooking new types of foods you never thought possible. Perfect brisket, or smoke your ribs in a smoker grill of your choosing.
Cook eggs, bacon, and other breakfast food on an optional griddle. This makes any outdoor space an extension of your kitchen!
Choose a pizza oven to make clean-up a breeze and have a fun way to cook healthy foods outdoors with your family!
Start My Consultation
Now is the time to build a custom outdoor cooking station for your home!
We use the best materials like stainless steel. This means that you won't have to worry about costly maintenance costs, so you and your family can enjoy the custom grilling station for years to come with our industry-leading warranties!
You spend a lot of time and energy to make sure your backyard is the perfect place to host parties, relax with your family, or escape over the weekend. Now is the time to talk to our outdoor living experts about how one of our beautiful and custom BBQ stations can improve your outdoor living today!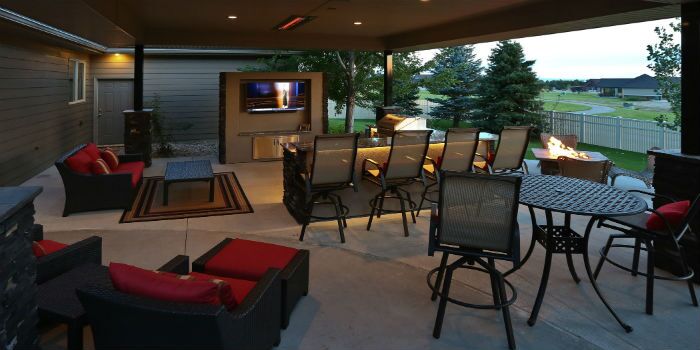 Impress Guests With An Outdoor Grilling Station
If you take pride in your backyard and you love to relax with family or host friends for gatherings, then you need a grill that represents your values. Our custom BBQ grills are the ideal choice for picky Billings homeowners who want their backyard to look perfect all year round.
You can make an outdoor kitchen from the ground up as you choose from our assortment of outdoor grill islands to craft a unique custom BBQ grill. Our outdoor barbecue grills include a built-in grill and weather-tight storage, so you can rest assured that your investment will last for years to come.
Enjoy great food and create unforgettable memories around your beautiful outdoor kitchen. You can add smokers, pizza ovens, and griddles to expand culinary opportunities. Cooking BBQ dishes like rotisserie chicken, BBQ ribs, and brisket in your house can cause lots of smoke and smell, but an outdoor grill station lets you bring the cooking outdoors!
We know that you want to build your outdoor kitchen around your cooking needs and your outdoor living spaces' aesthetics. Not only will you receive the best customer service from the moment you speak to our team, but you will also have access to the best materials and construction designs to make your stainless steel grilling station everything you dreamed of!
We offer a range of custom grills based on powder-coated aluminum products to withstand Billings' harsh temperatures.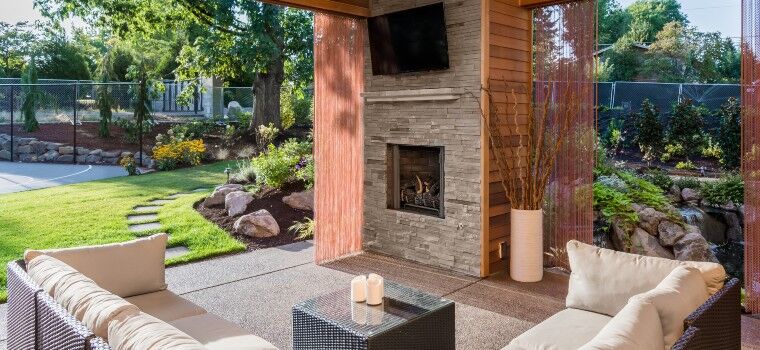 Custom Outdoor Grilling Stations
If you love the taste and smell of BBQ, then you will love your custom pellet, propane, or natural gas BBQ grill. Along with the iconic scent and taste, our custom BBQ grills are easy to control and use advanced technology to maintain cooking temperatures to ensure your food is just right each time.
Our outdoor living experts also can help you customize your outdoor grill to make it exactly what you need. We can help you build a prep station for your meats, build access doors to hide items like tongs, paper towels, and other utensils.
Best of all, your grilling station will be constructed with weatherproof materials to keep your outdoor living space looking its best for years to come.
Make Your Neighbors Jealous
Want to be the life of the party? Talk to our team about how to build a custom outdoor grill station today!
Custom Outdoor Gas Grills
Gas grills and propane grills are the most common type of grill owned by Billings homeowners because this type of grill is easy to control cooking temperatures and ignite the flame when needed.
Our custom built gas grills offer a range of cooking capabilities, burner knobs, and other customizations that you can choose from to meet the demands of your family and neighborhood get-togethers.
If you want a low-maintenance grilling solution, then you should talk with our outdoor kitchen experts about how you can incorporate a custom gas grill into your backyard design.
Our team has helped homeowners just like you for over 30 years to deliver the best outdoor living space imaginable. Whether you are looking for a custom stainless steel grill or you want a custom stucco, wood, or stone grill, then we have you covered!
We can build your custom gas BBQ grill around existing structures like benches and even an outdoor fire pit!
We can make your custom gas grill into stone structures to match your existing atmosphere. We can even build a new pergola to keep the sun off you and your guests.
What Are The Most Popular Outdoor Kitchen Grill Set Ups?
Your outdoor living space is more important than ever before, and our outdoor cooking stations offer unmatched functionality, durability, and fun for the whole family. You can choose from various outdoor kitchen selections to meet your family's needs.
Let's take a few of the most popular cooking stations to spice up your outdoor space!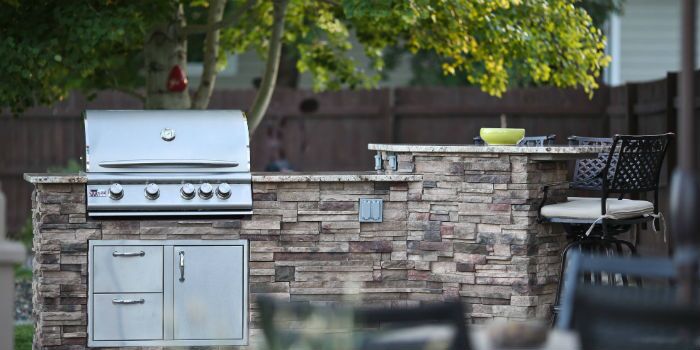 Backyard BBQ Islands
A classic backyard BBQ island is one of our most popular option for most homeowners looking to upgrade their outdoor kitchen area. This outdoor kitchen island offers lots of cooking surfaces like grills, griddles, and side burners. It also features an excellent grill station, so you can host backyard parties and family gatherings with ease.
This is the perfect outdoor cooking station if you want to grill up hotdogs and burgers for your friends and family. Nothing beats enjoying great weather with friends and family around a beautiful centerpiece like an outdoor cooking space. We will work with you to choose the best type of layout, style, and materials to match your home's decor.
While you can make your outdoor grilling station as complex as you want with bar seating and countertops, most customers choose a backyard BBQ island because they are low-key and even great for special events!
Open Air Grill Islands
An open-air grilling station invites your guests to enjoy the authentic outdoor cooking experience. Typically, this type of custom backyard BBQ grill is built into your patio and allows you to enjoy the surrounding landscape.
Our open-air cooking space leaves lots of surface area for you and your guests to talk and relax. We can build a dining area with bar stools or freestanding seating options.
Since an open-air outdoor kitchen is meant for frequent use, we will discuss the best materials like stainless steel or other options to help keep your grilling station safe for years to come.
Many of our customers choose this type of grill island because it provides a full view of the surroundings so you can watch your kids and chat with your family as you cook your delicious meal!
Covered Outdoor Cooking Stations
Suppose you are looking for the option to host gatherings in rain and shine. In that case, you should consider building a custom outdoor grilling station under a covered pergola or another type of patio cover. This option is ideal for families who want to extend their homes.
Our custom gas grills and outdoor pellet cooking stations are the perfect choices to bring more flavor to the table. You will love our high-quality BBQ grill materials because they will look amazing and last longer than a traditional grill.
Billings Custom Outdoor Grill Experts
R & T Services is the best choice to install your custom outdoor cooking station. We have experience working with all types of outdoor living materials so we can set your outdoor kitchen is the perfect place anywhere in your backyard.
We know what it takes to deliver the perfect custom BBQ grill to your home. Our outdoor kitchen experts can help you from start to finish with everything from planning, building, and maintaining the outdoor cooking station of your dreams!
Let's Get Started
You know you want a beautiful outdoor grill station for your home. Let's make it happen!
Custom Outdoor Grills FAQs
How much does a custom outdoor BBQ grill cost?
Price will vary, but you should expect to spend $5,000 – $12,000 on a new outdoor cooking station.
Are outdoor kitchens worth the money?
Can I add a pergola on my patio along with a custom outdoor kitchen?
Yes, our team can help you choose the right louvered patio roof or pergola roof for your outdoor living space.
Want To Upgrade Your Patio Or Backyard?
We hire highly skilled and knowledgeable experts in the field.

"R & T beat every bid I got and filled out most of the paperwork for the credit from MDU. When I filed my taxes, they got me a itemize receipt, for the energy credit. Would highly recommend them!!"

"The R & T team made me confident that my A/C install project would be done on-time. The other estimators only noted problems; R & T Services enthusiastically solved problems."

"Tim O'Brien is highly knowledgeable in all aspects of heating and cooling. R & T Services showroom is amazing. If you need any services they will perform top notch, quality work."