Fireplace Installations
With over 30 years of experience installing fireplaces, we'll make sure your installation is done right so you can enjoy your new fireplace for years to come.
Fireplace Installations Done Right The First Time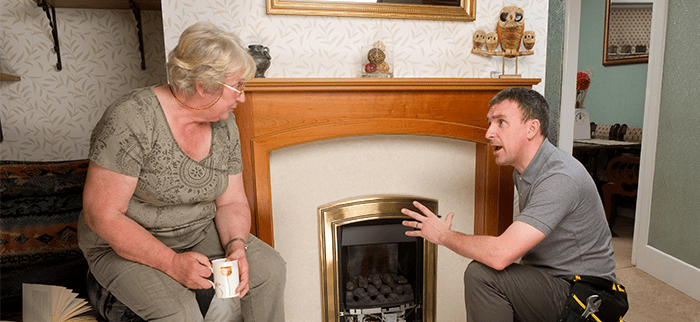 Your Billings home is your pride and joy. It's where your family and friends gather to make memories, even on the coldest days of the year.
So it makes sense that you'd want a fireplace in your living room to create a warm, comforting glow while entertaining friends or spending time with your family.
With over thirty years of experience, we specialize in fireplace and stove installation for Billings residents and surrounding areas. We know a fireplace will increase the value of your home and act as a focal point in your living space.
Our experts will help you choose the right gas log insert or masonry fireplace to make your living space luxurious and comfortable for all of your Billings fireplace needs like:
Fireplace Install Experts
Fireplace installations done right. The first time.
What To Expect From Your Fireplace Installation

There's nothing more exciting than coming home after a long day at work to your comfy couch and a blazing fire.
For over three decades, your local fireplace experts at R&T Services have installed fireplaces in Billings, MT, and the surrounding areas.
Your journey will start by talking about your needs with one of our fireplace experts. We will guide you through the fireplace design process to get the best option for your needs.
Once you have a vision for the type of fireplace you want to install in your home, we will send a fireplace technician to measure your existing fireplace or survey where you'd like the fireplace installation to take place.
Our technicians will set a date for your fireplace installation and arrive bright and early to begin installing your new fireplace. We will take care of your property and line up any other contractors needed for the job, including an electrician and chimney sweeps.
Our team will work hard to create the fireplace of your dreams, filing all necessary paperwork and permits to make your vision a reality.
Once your fireplace has been installed, R & T Services will be on call for fireplace services to maintain your wood or gas fireplace. From annual maintenance to fireplace repair, we've got your back.
Whether you want to install a fireplace insert or a brand new fireplace, the experts at R&T Services have decades of experience serving the residents of Billings.
Fireplace Inserts Can Significantly Cut Your Installation Time

Homeowners like you across Billings turn to their fireplace for warmth, comfort, and ambiance. The right wood-burning fireplace or gas fireplace can make your home more energy efficient and reduce your home heating bills.
But if your existing fireplace isn't producing heat like it used to, you may face fireplace repair calls. If the technician determines that your fireplace needs to be replaced, you may cringe at the idea of home renovations that take extensive amounts of money and time.
Fortunately, there's a solution for homeowners who want to install a new fireplace without the hassle of an invasive renovation process.
Fireplace inserts fit directly into your existing firebox and contain everything you need for a high-quality, energy-efficient fire.
Warm & Elegance
Get your fireplace up and running in now time with our expert fireplace installation services.
R & T Services Has Everything You Need For A Brand New Fireplace
Billings, Montana, is a fantastic place to live. From the extensive outdoor activities to the beautiful winter scenery, Billings is where people like you feel at home.
The professionals at R&T Services can go beyond fireplace installation. We offer fireplace services like annual inspections, HVAC repair, and other heating and cooling maintenance services.
So you can rest assured that the experts at R&T Services will keep your home comfortable all year long.
Contact us today for more information on choosing and installing a new fireplace in your Billings home.
Billings Fireplace Installation FAQs
How much does a fireplace insert cost?
Fireplace insert costs vary widely based on the quality & type of fireplace and the scope of installation.
Will a fireplace increase the value of my home?
What should I set my thermostat to in the winter?
Have Questions About A Fireplace?
Our team is here to help take care of everything to install your indoor or outdoor fireplace!

"R & T beat every bid I got and filled out most of the paperwork for the credit from MDU. When I filed my taxes, they got me a itemize receipt, for the energy credit. Would highly recommend them!!"

"The R & T team made me confident that my A/C install project would be done on-time. The other estimators only noted problems; R & T Services enthusiastically solved problems."

"Tim O'Brien is highly knowledgeable in all aspects of heating and cooling. R & T Services showroom is amazing. If you need any services they will perform top notch, quality work."