Fireplace Repair Services
Is your fireplace broken or not working as well as you remember? Our expert technicians are highly trained to get to the root of your fireplace issue and repair it as quickly as possible.
Get Your Fireplace Working Again In No Time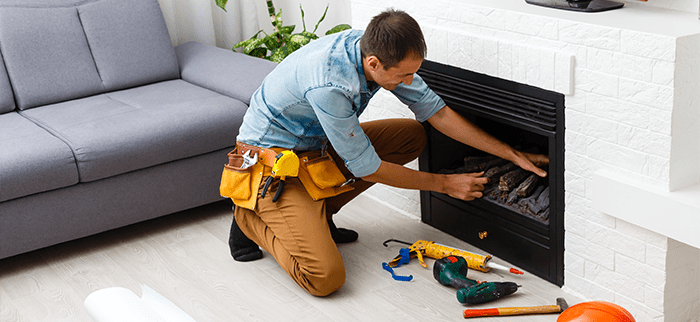 Your Billings fireplace is the heart of your home. It's where you gather your family and friends to build memories and relax on the coldest winter days.
Billings homeowners like you know how important the fireplace is to the ambiance of your home. Whether it's in your living room, bedroom, or built into your outdoor living space, your fireplace is your pride and joy. This is why we offer several professional fireplace services like:
Serving the Billings, Montana service area, our expert technicians are highly trained to get to the root of your fireplace issue and repair it as quickly as possible.
R & T Services can inspect your unit and repair it if possible. We offer quality work done right.
Broken Fireplace?
No problem. Let us come out and get your fireplace back up and running!
Common Reasons For Fireplace Repairs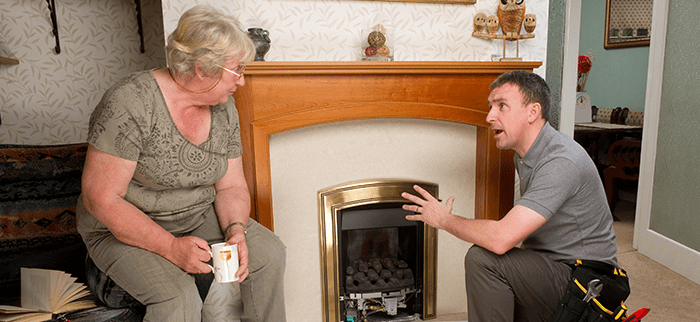 Whether you have a wood-burning or gas fireplace, you will at some point need fireplace repair services. And if it's during the frigid Billings winter, you'll want the repairs done fast.
There are lots of things that can go wrong with your fireplace. Sometimes, the issue is the chimney itself and not the actual fireplace.
Let's examine the most common reasons homeowners call for fireplace repair services.
Issues With A Wood-Burning Fireplace
Traditional wood fireplaces have the potential to turn an evening at home into something magical. Between the crackling of the logs and the fragrant aroma of the flames,
Damper Issues: The damper is the plate or valve that regulates or stops airflow inside your chimney. If you feel a draft or your flame is weak, you could need to have your damper replaced.
Flue Problems: Waste gasses and smoke exit your home through the flue. If it becomes damaged by water leakage or blocked by buildup from wood fireplaces, your fireplace will not function properly.
Chimney Trouble: Chimneys may look like simple structures, but they are actually very complicated. This means if something goes wrong, it could impact your fireplace. Regular chimney services can help delay the need for chimney repairs, but you will need to replace your chimney cap or repair your chimney eventually.
Structural Issues: Sometimes, the problems are with the structure of your fireplace. Whether it's the firebox or old chimney repairs, structural issues could spell disaster and drive up the repair cost for your fireplace.
While we may not be able to help you with every fireplace issue that you face, our team of local experts are happy to talk with you today!
Issues With A Gas Fireplace
Homeowners love their modern gas fireplaces for their beauty, elegance, and low maintenance. From a gas fire pit to the peninsula-style indoor fireplace, gas models give you the flexibility to add warmth and romance to any room in your home.
But even with an annual fireplace inspection and regular cleaning, you may find that your gas fireplace has stopped working. This can be frustrating for Billings homeowners, especially if your gas fireplace adds warmth that wards off the chill of winter.
Here are the most common reasons why homeowners need a gas fireplace repair service call.
Pilot Light: If your fireplace is fueled by natural gas, it needs a pilot light to help it ignite. If your pilot light is out or flickering, it's a sign you need to schedule a fireplace service call.
Gas Line Issues: The lines that deliver propane to your gas fireplace could be bent or worn, causing issues with your fireplace or even dangerous carbon monoxide leaks.
Thermocouple/Thermopile Problems: This mechanism is what starts your flame when you click the button on your remote control or flip the switch. If your gas logs are blocking it, your fireplace won't start. However, it could easily wear out and need replacing, especially with frequent use.
Save $$ On Fireplace Repairs
Don't let a broken fireplace get you down. Our team can get your fireplace running in no time!
What If My Fireplace Can't Be Repaired?
Sometimes the issues found during a fireplace repair service call are impossible to fix. You may find repairs too costly, from settling to improper installation to just old age. Or maybe you feel it's time for a new fireplace for your Billings home.
You may find it impossible to live without your home's fireplace for an extended period. This option allows you to install a new fireplace without a big home renovation project.
The easiest fix is to install a fireplace insert. This model fits inside your existing fireplace and is fully insulated so that you can place it near combustibles without the risk of a fire.
It also helps increase your fireplace's energy efficiency, reducing energy costs during the colder months.
You can trust the fireplace installation experts at R & T Services to bring the luxury of a fireplace insert to any room in your home.
Trust R & T Services For All Your Fireplace Repair Needs
Your fireplace is an essential appliance in your home. Without it, the atmosphere just doesn't feel the same. So when you need fireplace repair services, you want them fast and done right the first time.
R & T Services is known in Billings and the surrounding areas as the fireplace experts. We have over thirty years of experience with fireplace cleaning, repair, and fireplace installation services.
Contact us today to set up a fireplace service call to find out what's going on with your Billings fireplace and how to get it up and running again.
Billings Fireplace Repair FAQs
What are the most critical tests performed during a routine gas fireplace inspection?
Will adding a fireplace add value to my home?
How much does it cost to fix a cracked fireplace?
The average price to replace a cracked fireplace is between $200-$1,000.
Have Questions About A Fireplace?
Our team is here to help you repair your fireplace if it's broken or not working as well as you remember.

"R & T beat every bid I got and filled out most of the paperwork for the credit from MDU. When I filed my taxes, they got me a itemize receipt, for the energy credit. Would highly recommend them!!"

"The R & T team made me confident that my A/C install project would be done on-time. The other estimators only noted problems; R & T Services enthusiastically solved problems."

"Tim O'Brien is highly knowledgeable in all aspects of heating and cooling. R & T Services showroom is amazing. If you need any services they will perform top notch, quality work."