Custom Outdoor Fire pits
Looking for a way to add warmth and character to your outdoor space?
Look no further than our custom fire pits for your Billings home!
Enjoy The Outdoors All Year With A Custom Fire Pit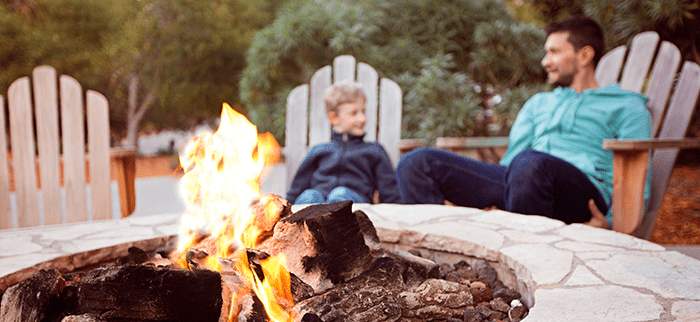 No matter the season, Billings can get cold. Even spring and summer nights bring a chill that may drive homeowners indoors.
What if you could add warmth to your outdoor living space with a focal point that would allow your family to enjoy the outdoors and your comfy outdoor furniture no matter the season?
R & T Services is your Billings outdoor living expert, and we can help make your outdoor living space more relaxing than ever with:
Pergola roofs: Enjoy your patio all year with a beautifully designed louvered system that compliments your home's architecture.
Custom outdoor grills: Host the best gathering ever with one of our custom patio grills.
Outdoor kitchens: Bring your kitchen to the great outdoors with a custom built-in outdoor kitchen to host parties and enjoy family dinners!
Cozy Outdoor Living
Bring comfort & warmth to your patio or backyard with a custom outdoor fire pit.
The Benefits Of Installing An Outdoor Firepit
An outdoor fire pit is the centerpiece of a luxurious, well-designed outdoor living space. It provides a gathering space for families and guests to roast marshmallows and make memories on cool evenings.
They are as iconic as a custom BBQ grill for entertaining outdoors.
Custom outdoor firepits offer the additional perk of elevating your outdoor living space and creating cohesion in the design of your patio and backyard area.
Homeowners can design their fire pit to enhance their space regardless of the size of their yard or patio.
Custom-designed fire pits offer unique benefits:
High-quality materials, such as stainless steel and natural stone
A choice between gas-burning fire pits and wood-burning fire pits
An expert design and installation team to ensure your firepit enhances your home's outdoor living space
Meet CSA standards
A warranty to protect the homeowner
Not only with a personalized fire pit make your backyard a unique oasis, but it will wow your guests. Imagine the looks on their faces at your next outdoor gathering when they lay eyes on your custom-designed fire pit.
If you're looking to add a luxury fire pit to your business, R & T Services can help with that too! No job is too big or so small for our outdoor living experts.
What To Look For In A Custom Designed Fire Pit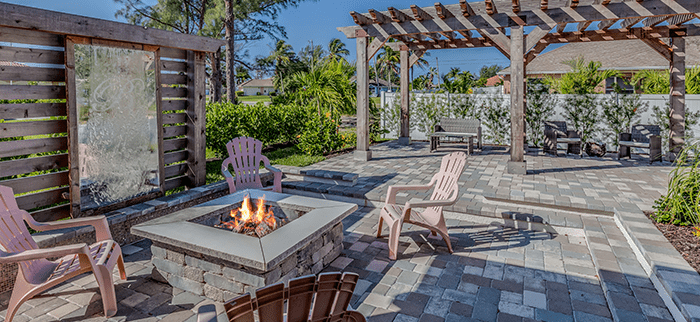 Design Ideas For Your Customized Outdoor Fire Pit
The beauty of a personalized fire pit means you can choose finishes and accessories that speak to your design aesthetic.
So you won't be going to a store and picking from the same selection as other Billings homeowners. You'll be able to talk to our fire pit experts and make your fire pit dream a reality.
Whether you choose a propane fire pit or a wood-burning fire pit, here are some ideas for how you can design a unique, eye-catching fire pit for your outdoor living space.
Decorative elements: Choose between lava rocks, fire glass, or fire beads to place inside the fire pit to add color, depth, and interest.
Fire bowls: This element can be a focal point for your fire pit. Create a square fire pit with a four-sided fire bowl or stainless steel round fire pit with a modern flair.
Fire pit covers: When your fire pit isn't in use, cover it with a beautiful fire pit cover to prevent debris and outdoor pests from getting in.
Log sets: If you opt for a customized outdoor gas fire pit, there are countless options for eye-catching log sets that will add a touch of traditional charm to your gas fire.
Fire features, like a fire pit, are a hot commodity amongst Billings homeowners. R & T Services can help you design one that will make your neighbors jealous!
Stand Out From The Crowd
Bring your family together around a warm custom fire pit!
Professional Fire Pit Installations
R & T Services offers custom fire pits to help your family relax and entertain together! We have been serving the Billings area for over 30 years, and our professional fire pit designers will work with you from start to finish to build the outdoor fire pit of your dreams.
Our expert team of fire pit installers will bring your designs to life as we build the fire pit around your existing outdoor area.
R & T Services is proud to offer the highest quality fire pit services in Billings, MT. We will work with you to custom design your dream firepit and select the best materials for your space.
Then, our fire pit installation experts will arrive on time to install the firepit. We will stay within budget and produce the unique fire pit you've been dreaming of.
Visit our online store and contact us today for more information about our fire pit offers. Our team is always available to provide you with a personalized consultation!
Are fire pits dangerous?
A properly designed and installed fire pit that is used and maintained correctly is not dangerous to homeowners. Be sure to ask your fire pit experts how to best use and care for your custom-designed fire pit.
How much do custom firepits cost?
The cost varies depending on the model, materials, and fuel source. No matter the cost, a firepit adds value and comfort to any home.
Do fire pits need burner pans or fire bowls?
Depending on the type of custom fire pit you choose, they are recommended, but not required.
Ready To Upgrade Your Backyard With An Outdoor Fire Pit?
We hire highly skilled and knowledgeable experts in the field.

"R & T beat every bid I got and filled out most of the paperwork for the credit from MDU. When I filed my taxes, they got me a itemize receipt, for the energy credit. Would highly recommend them!!"

"The R & T team made me confident that my A/C install project would be done on-time. The other estimators only noted problems; R & T Services enthusiastically solved problems."

"Tim O'Brien is highly knowledgeable in all aspects of heating and cooling. R & T Services showroom is amazing. If you need any services they will perform top notch, quality work."