Furnace Repairs
Repairing a broken furnace is a vital task to ensure your home and family are safe throughout the year. Let our team help you through your options to repair your home's furnace today!
Billings Furnace Repair Services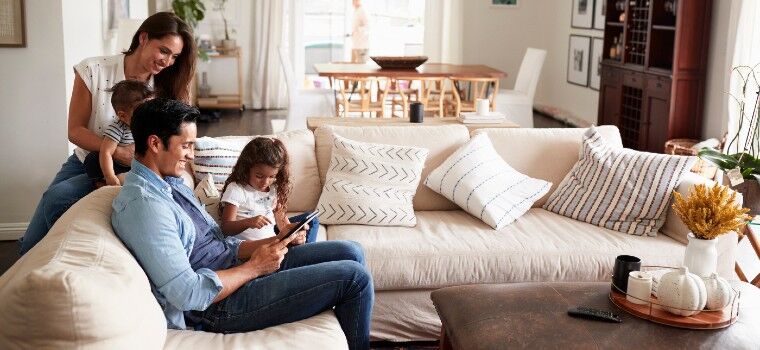 In Billings, winter never seems too far away. When the weather drops below freezing, and the wind begins to blow, homeowners know that they need the best local furnace repair service to keep their family and home safe.
Your furnace is an investment, and if treated properly, your heating furnace will last for years without problems. However, it is when home furnace repairs go unchecked that your home's heating system could lead to big problems down the line.
At R & T Services, we have been providing the best furnace services for Billings over the past 30 years.
Our team of highly-trained technicians has the experience and knowledge that you need to ensure your home's furnace repairs are completed on-time and within budget!
Your Local Furnace Repair Experts Billings, MT
You already know that you need a furnace to keep your family safe, but did you also know that a furnace keeps your home from experiencing damages that can cost thousands of dollars? When working properly, your home's furnace distributes heat through a duct system.
Your home furnace heating system is a complex machine, and you need to make sure that your heating system works to enjoy year-round comfort. Our experienced furnace repair technicians can help you with all of your furnace repair needs, including:
Provide end-to-end maintenance on all furnace makes and models. Our team will run a complete diagnostic reading to find out what needs to be repaired on your furnace before we make any adjustments.

We work with ductless and central air furnaces. Both types of heaters offer their owner benefits, and our team has experience providing timely repairs as needed.

Prevening your furnace from breaking is the best option. We offer affordable furnace maintenance options to maximize system efficiency and reduce the costs associated with repairing a heater.
If you are looking for furnace repairs, then you need to look no further than R & T Services. Our team of furnace repair specialists is here to help you and your family stay safe through the cold winter Billings months.
We are ready to work with you today, and we offer the best financing options to ensure you get the furnace repair services you need!
Common Furnace Repair Services

Your furnace is a complex system with many moving parts. Regardless of the manufacturer or model, your furnace is an advanced machine with motors, rectification systems, various sensors, and controls that have to work flawlessly to keep your home and family comfortable throughout the winter.
If one part of your furnace fails, then your entire system can fail. Some of the most common home furnace repairs that our furnace experts help homeowners with include:
Burners that blowout and won't stay lit.

Faulty thermostats that display incorrect temperature readings.

Pilot light ignition problems that lead to other issues.

Blocked airflow and lack of blower air intake.

Furnace blowing lukewarm air.
While Billings is typically warm and comfortable for most of the year, cold snaps and regular winter weather will hit the area each year. When the mercury drops, your family will thank you for having the right furnace repairs to ensure their safety and comfort while inside.
Don't wait to let home furnace repairs go without calling the best local furnace repair experts in Billings. Our team is standing by to help you and your family stay safe this winter!
R & T Services is a local furnace repair company with over 30 years of experience. We have worked with hundreds of Billings homeowners just like you to keep families and homes safe during the frigid winter months.
Our team of high-trained technicians can repair furnaces of all shapes and sizes, and we know how to address the heating needs of your home.
Our only goal is to make the repair of your furnace as simple as possible, and we will work with you to keep costs as low as possible.
Our Local Billings Furnace Experts Won't Leave You In The Cold!
R & T Services has the expertise that you need for all of your heating and cooling needs.
Whether you are looking for a new furnace to be installed, ongoing furnace maintenance, or local furnace parts, we have everything you need under one roof!
Our technicians know how important your heating system is, and that is why we will take every call to repair furnaces with the urgency that it deserves.
We have been serving the Billings, MT area for over 30 years, and we are standing by to assist you with well-timed furnace repair services today!
We also offer the best financing options in Billings to ensure you get the furnace repairs that you need. If you find that you are having trouble making ends meet with a needed furnace repair, then you can talk with our team to learn what options are available for you.
Have Questions About Furnace Repairs?
We hire highly skilled and knowledgeable experts in the field.

"R & T beat every bid I got and filled out most of the paperwork for the credit from MDU. When I filed my taxes, they got me a itemize receipt, for the energy credit. Would highly recommend them!!"

"The R & T team made me confident that my A/C install project would be done on-time. The other estimators only noted problems; R & T Services enthusiastically solved problems."

"Tim O'Brien is highly knowledgeable in all aspects of heating and cooling. R & T Services showroom is amazing. If you need any services they will perform top notch, quality work."