Air Conditioning Installation
Choosing a new air conditioning system for your home can feel like a stressful time. Let our team help you through the air conditioning installation process!
Quality AC Replacement & Installation Services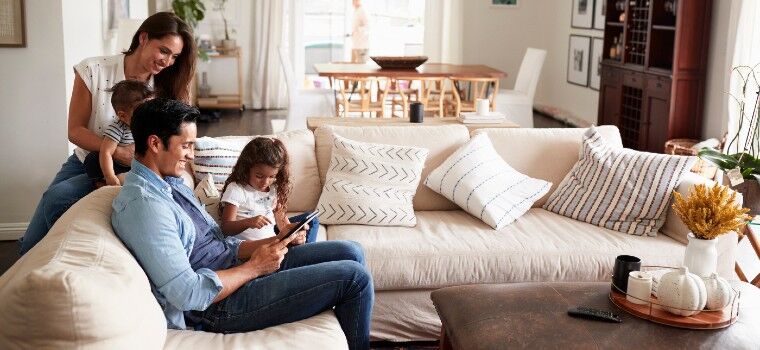 Our team at R & T Services is known for our attention to detail whenever we help our Billings community with their heating and cooling needs.
However, even with the best technicians and top-notch brands can mean that your AC unit repairs won't last forever. In these cases, you need the finest equipment on the market will need to be replaced at some point.
No two homes are the same, and there are substantial differences between AC units that need to be accounted for when installing and replacing an air conditioner in Billings, MT.
Finding that your AC is broken or not working properly can be a scary time for homeowners. Whether you are confused about the type of AC that you should install, how much air conditioning installation costs, or the steps to replace your AC, it goes without saying that you could find yourself more stressed than usual.
Our team is standing by to help you choose the right AC unit for your home. Give us a call or contact us today to get started!
Signs It Is Time To Replace Your Air Conditioner
There are obvious signs that you need AC replacement services, like if your air conditioner doesn't start when you turn on your thermostat. However, there are other signs that you can look to see if it is time to seek professional air conditioning installation services, like:
If your air conditioner is more than 10 years old.
Frequent AC issues throughout the year- this is a sign parts could be wearing down.
High energy costs could be a sign that your AC is not running efficiently anymore.
Your AC unit does not push out cool air into your home.
Strange odors coming from your vents and AC unit.
Visible water accumulation around your AC unit or water leaking into your home.
Uneven cooling throughout different rooms in your home.
While it can be a confusing time, you should know the signs that you should contact local air conditioning installation services near you. Our team is ready to help you choose the right air conditioning unit for your home. We carry a wide range of units that are designed to be energy efficient and last for years to come.
Factors To Consider When Looking For AC Replacement Services

You deserve to have a safe and comfortable home for your entire family. Air conditioning systems are a necessity in Billings because they cool your home, reduce humidity, and improve air quality by filtering out pollutants and allergens before they enter your home.
If you are in need of professional air conditioning installation in Billings, MT then you should know what to look for when researching "air conditioning installation near me" on Google and other search engines. Here are a few factors to consider as you look for the best AC replacement service available.
1. Total AC Replacement Cost
One of the first things that Billings homeowners consider when replacing their AC unit is the total cost of installation. Typically, more expensive units are more cost-effective in the long run because they have technology that makes them more efficient.
Be sure to use a professional air conditioner installation service that walks you through different AC units and pricing structures that meet your family's needs and financial situation.
2. AC Unit Replacement Size
One of the first factors that you will need to consider when looking at air conditioning installation services is the size of the AC unit to be installed at your home.
Professional AC installers will analyze the size of your home and available installation space when choosing the right unit for your home.
If you install an AC that is too small, you will need to constantly run the unit which can lead to more wear and tear while also driving up your energy costs.
On the other hand, if you install an AC unit that is too large, then you can face operation issues because the unit will cycle from on and off quickly.
3. Quality Of Replacement AC Units
We only sell high-quality AC units for our customers in Billings, and we have a range of units to meet your needs.
All of our replacement AC systems are tested to ensure optimal working conditions, and higher quality AC units tend to last longer and consume less energy than our more economical options.
4. Air Quality
All of our replacement AC units meet predefined specific air quality rules set by manufacturers and government agencies. Consider the needs of your family when choosing an AC replacement service, because some AC units offer better air quality than others.
Our AC experts can help you find the right AC system based on your family's needs to ensure the well-being of your family.
5. AC Installation & Maintenance Costs
Your new AC unit needs to be installed in a location to help keep your family cool and comfortable. This means that AC systems should not be installed in outside locations that get lots of direct light, because this can lead to overheating and shorten the lifespan of the AC unit.
Expert AC Installation In Billings, MT
Our trained AC technicians are ready to help you install a new AC unit to help keep your family safe and comfortable this Summer. There are many factors that need to be considered when replacing your AC unit, and you should only trust your air conditioning replacement with the team at R & T Services.
If you want to work with local installers that can help you save money and extend the life of your AC unit, then it's time to talk with the pros at R & T Services.
Billings Air Conditioning Installation FAQs
Should I replace my existing HVAC AC unit?
Whether you want to replace your air cooling or heating system is up to you. Most of our clients replace their HVAC AC unit or furnace because their current unit is not functioning correctly. Other customers want to replace their unit to install a more efficient system to save money and reduce their carbon footprint.
How do I select a new AC unit?
First, you want to check that you are buying an AC unit that is properly sized to your home. Second, you want to think about other considerations like airflow, air circulation, and air filtration to remove allergens. Finally, you will need to choose an AC unit that is at your budget. Newer, more efficient AC units are often more expensive.
What is involved in replacing an old AC unit?
You will need to find the right place to install the AC unit and inspect the ductwork in your home to ensure everything is working properly once installed. Some of the additional checks that you will need to perform once you install an AC unit include ductwork, insulation, electrical service, wiring, and your filtration system.
How long will a new AC HVAC unit last?
Most AC units will last up to 15 years if installed and maintained by a professional Billings HVAC technician. You will need to have regular maintenance performed on the AC unit to ensure it operates as efficiently as possible, but you should expect your AC unit to last for around 15 years.
Have Questions About AC Services?
We hire highly skilled and knowledgeable experts in the field.

"R & T beat every bid I got and filled out most of the paperwork for the credit from MDU. When I filed my taxes, they got me a itemize receipt, for the energy credit. Would highly recommend them!!"

"The R & T team made me confident that my A/C install project would be done on-time. The other estimators only noted problems; R & T Services enthusiastically solved problems."

"Tim O'Brien is highly knowledgeable in all aspects of heating and cooling. R & T Services showroom is amazing. If you need any services they will perform top notch, quality work."